For a long time, Fuyuda Electronics has always insisted that "quality and service create value" is the core concept of corporate culture. While ensuring to provide customers with high quality high-tech products, we pay more attention to product and technical after-sales service; In order to ensure the high quality, efficiency and continuity of the service level, we have built a talent team to meet the needs of different customers, and always adhere to the service spirit of "customer-oriented, actively find and fully meet their application needs".
Fuyuda always follows the development tenet of introducing technology, emphasizing on self-research and development, good technical service, and blending Chinese and Western cultures. Create more value for customers at home and abroad!
The average swimming speed of lifeguards is only 2 meters per second, and each mission takes at least half an hour, so there is no time to rescue more drowning people. The huge waves and rapids are also the major obstacles preventing lifeguards from saving drowning people. Water rescue remote control life buoy at the same time to save 3 to 4 people in the water, the drowning can grasp it on both sides of the handle, or grasp the bar, by the rescue personnel through the remote control.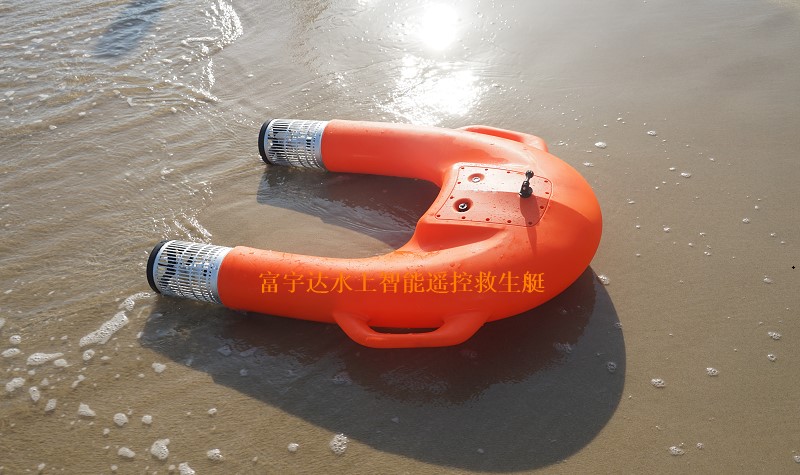 launching
Water rescue remote control life buoy can be thrown from the boat, shore, or aircraft, both sides can be driven; It can stay straight and steady in the waves, resist the wind and waves, and can drag rescue equipment such as life buoy or rubber boat and water stretcher.
Accurate remote control
One-hand remote control, can achieve ultra long distance control, easy to operate, can accurately control the route of the life buoy.
Full and rapid rescue
Intelligent life buoy is a kind of life-saving device with high performance power and can reach the target personnel quickly. The remote control life buoy can reach the drowning person at a speed of more than 6 meters per second, effectively shortening the rescue time and improving the survival probability of the drowning person.
Functional Features:
1. Running towards the target with high speed;
2. Remote control distance is much more than 1000 meters
3. U-shaped ergonomic design can effectively reduce water resistance;
4. Quick startup with one button, easy to operate, and ready to use when falling into water;
5, built-in 9-axis gyroscope, can recognize attitude information, automatic front and back recognition, automatic switch left and right functions.
Shenzhen Fuyuda Electronics Co., LTD. Not only provides high quality high-tech products for customers, but also pays more attention to after-sales service of products and technologies. Welcome to visit and investigate.